"Where are your things?" the building superintendent asked. Erik Sakslad was a retired seaman from Estonia -- big, pink-cheeked and gray-haired -- with a playful grin. "You move to big city with one little suitcase?"
What had I been thinking? As soon as City Hall called me in Salt Lake City, in May 1971, and said I'd gotten the job, I packed up some clothes, makeup and instant coffee, and that was it. The magnitude of my stupidity left me speechless, while Erik laughed his head off.
Now that I had rented a tiny studio apartment in this five-story apartment building at Two Riverside Drive and 72nd Street (after enduring several uncomfortable days at the YWCA), I realized I had no bed, no chair, no towels, no cookware -- nothing! I knew from experience that having my makeup with me could make almost any problem go away. Just pile it on and look a bit forlorn, confused or helpless -- and the cavalry comes galloping in. That wasn't the case with Erik, though. He was just a very sweet guy.
"I will bring up everything you need from basement, girly girl," Erik said. "You go for nice little walk and make friendship with neighborhood."
"No -- I want to help," I told Erik.
The clean, orderly basement was full of items left behind by former tenants. Erik filled a couple of the washing machines in the laundry room with sheets, towels and a bedspread. I was excited that I was going to have all those colorful items -- prints, plaids, florals and bold stripes. All we ever had when I was growing up were whites. My mom liked to bleach the hell out of everything, and I liked it too. Clean and sterilized like nobody's business! But these splashy fabrics were going to be fun for a change.
Erik brought a mattress up in the elevator and lay it on the floor, against the south-facing wall. We fetched a charming wicker loveseat and chair with flowered cushions.
He gave me an old black trunk to use as as a coffee table. I got a couple of plates and pots, cutlery, mugs and drinking glasses -- and a great big ashtray -- from the basement's extensive collection, all arrayed tidily on shelves.
"That is all?" Erik asked."Nothing more you need?"
I was embarrassed to ask for anything else, but I really did have to have a radio, even more than a bed. I love music. I had been told that there were actually black radio stations (what a concept!) in New York. In Salt Lake City, all we got was a little mainstream Motown here and there. I wanted all soul music all the time, and that is indeed what I got: WBLS, "The Total Black Experience in Sound" with "Black Satin Frankie Crocker" and the sultry Vy Higginson.
I was thrilled when Erik brought up a lovely ficus tree that a former tenant had recently left for him. Erik's apartment had no windows, but mine had a nice big view of the Hudson River, and plenty of light.
While I was putting things in order, Erik came back up with the clean laundry and said, "I have for you two welcome gifts. From my travels as seaman." One of them was a raw cotton dashiki from Africa in shades of burnt orange, olive green and midnight blue. I loved it, and I wore it often until it was stolen years later during a break-in in Denver.

It was late afternoon when Erik reappeared and invited me to come down to his apartment for dinner in an hour. I was greatly relieved. It had been an exhausting day, and I hadn't been looking forward to roaming around 72nd Street to find ingredients for a meal. I really didn't know how to cook anyway, except for desserts (many of my friends in college were middle-aged professors. They kept having heart attacks. So I would bake them my specialty: cheesecake topped with sour cream, bittersweet chocolate and slivered almonds. I had no idea that this was about the worst thing they could possibly have eaten, and apparently their doctors didn't either. (Sorry guys!)
I was only 20, and other than whipping up artery-cloggers for my favorite cardiovascular patients, I had never needed or wanted to spend my time in the kitchen, except to sample all the cool dishes my mom was creating, like soybean tacos and brown basmati rice with roasted vegetables and tofu. This was in the '60s! I don't know how she figured all this stuff out decades before it became mainstream. But I had been too busy trying, in vain, to become an intellectual to learn how to cook.
I took a shower and went downstairs in the dashiki. Erik seemed overjoyed to have a dinner guest. His apartment was small, but it was tidy and comfortable. He looked freshly scrubbed and smelled faintly of lemon. "Is German cologne," he said. "Very good 'siebenundvierzig elf' cologne for woman or man."
A few weeks later, he would give me a bottle for my 21st birthday.
He was making shrimp, which was about the greatest luxury food there was, as far as I was concerned. At home, we had never had shrimp except for those tiny, grainy, falling-apart ones in cans. Erik's were plump, pink medium-size shrimp straight from the Fulton St. Fish market, which he was sauteeing in oil with lemon, garlic and basil.
He served them with rice and a spinach salad that had pine nuts, red onions and artichoke hearts in it. He was humming and beaming and poking me with exuberance as he arrayed the dishes on the table. He was drinking vodka from a bottle he kept in the freezer. For me, he had bought a bottle of Mateus rose wine from Portugal.
"Is girly pink wine," he said.
I would have put up a fight about the sexism implicit in that remark, but I immediately was enchanted by its girly pinkness, and it was delicious. The bottle was so pretty that I kept it for years and used it as a candleholder. I later learned that about half the people in the world did the same thing. The other half used the bottle as the base for a makeshift bedside lamp.
Erik had lived in New York for 30 years, he told me as we ate. He had loved the seafaring life. "The ocean, she is always new," he said. "And in every port is beautiful girls, beautiful food and treasures to buy."
In the summer of 1940, word reached his ship that Estonia had been taken over by the Soviet Union. Erik and his shipmates were unanimous: They would not return. They left behind everything they had ever known, and everyone they had ever loved, in their refusal to submit to Soviet domination. They had been living under authoritarian rule for six years already, but it had been reasonably benign. Most of them would never see their families again.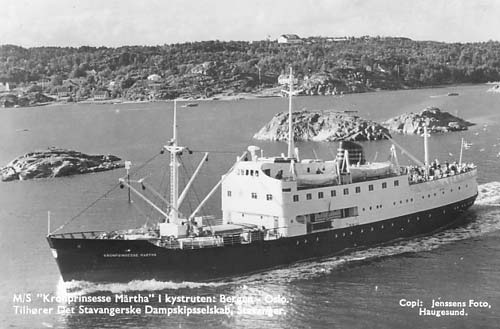 "My girlfriend Maarja, I will never forget," Erik said, brushing a tear off his cheek. "I have had many woman in America -- many, many woman! -- but not for love. Maarja was for love."
I was captivated by Erik's tales about his world travels aboard the big cargo ships. Nature was both the greatest adversary and greatest source of pleasure for the seamen, who were tough, rugged guys -- pranksters, gamblers, hard-drinkers and hard workers.
"Now will do polka dancing," Erik declared as we finished our meal.
Oh my god, are you kidding? I was too full. I was too tired. The available space seemed inadequate. And I didn't feel quite ready to be in Erik's arms, even for an innocent romp around the apartment.
"I can't do it, Erik, I'm sorry," I said. "I need to go to sleep. Tomorrow I start my new job."
"I will call you on intercom when breakfast is ready," he said. "And then I will take you to work in taxi cab."
I told him I had instructions on how to reach Lafayette Street -- near City Hall, the courthouses, China Town, Little Italy and Gracie mansion -- by subway, and it was very easy.
"For second day is fine," he said. "Tomorrow I take you."
(Erik called me kid, but with his accent it came out as "keed." The next morning, my intercom would blare with the announcement, "Rise and shine, keed -- breakfast is ready!")
At last, after a very eventful day, I slid into the elegant rose-patterned sheets. The mattress was on the floor, but I was lucky I to have a mattress at all. I pressed up against the cool wall, and to my surprise, I could hear faint chanting on the other side. I held my breath to listen more intently, and it was clear that I wasn't imagining it. Maybe it wasn't a chant -- it could have been a song or a prayer. It seemed to me that it had an Arabic inflection to it.
And that was when it hit me. The building next door was One Riverside Drive. It was a lovely old townhouse that served as a mosque and Islamic Center. I remembered it, somehow, from reading "The Autobiography of Malcolm X." (the building below with the green roof is the mosque. To the left is where I lived, on the fourth floor.)
Malcolm X had preached there just seven years ago. His relationship with the imam, Dr. Mahmoud Youssef Shawarbi, and his subsequent trip to Mecca, is what had broadened his faith from the controversial, ethnocentric Black Muslim movement to the broader global faith of Islam.
I was so touched and privileged to feel this resonance, through these cool white walls, of an aspect of history that I cherished.
I loved Malcolm. I loved Dr. King more, but I did love Malcolm, who had been assassinated in 1965. He scared white people so much that Dr. King started to sound pretty reasonable, relatively speaking, and things finally, slowly got moving in the right direction.
Malcolm terrified white people by telling the truth, and having the uppity gall to be furious about it. He demanded justice, and he threatened to get justice "by any means necessary." Malcolm was not some hysterical, radical freak. He had facts, which he presented with breathtaking eloquence and insight. He had the nerve to blame white people for slavery and for a well-documented litany of the ongoing brutality and injustice inflicted on his people by the white majority. He was mad as hell about it, and he wasn't going to take it anymore.
This brave and beautiful leader became arguably the most hated man in America. I loved him from the start.
On my first night in my first apartment in New York City, I am sleeping with Malcolm X. I am pretending that the prayerful voice I hear is his. I press my cheek against the wall. Thank you for being here, man. I will never forget this moment.
Erik warned me about the young men who lived across the hall from his first-floor apartment. "Stay away from them -- they are filthy boys," he said ominously. I spent a Christmas Eve with them a few months later, after dropping by to borrow a corkscrew. They were adorable, fascinating people who introduced me to a previously baffling form of love: S&M. And: They were a blast.
http://kronstantinople.blogspot.com/2013/12/christmas-eve-with-filthy-boys.html